A properly constituted meeting of the Mitchell Duke Appreciation Society
For the first time since 2010, the Socceroos have won a match at the World Cup finals. I was at the Rose in Fitzroy, and this was the moment of victory.
I spend a long time choosing my outfit. I realise that wardrobe decisions made at a distance of 12,000 kilmoetres by a fifty year old man going to the pub are not necessarily make-or-break for the team's fortunes, but still, why not make myself feel better?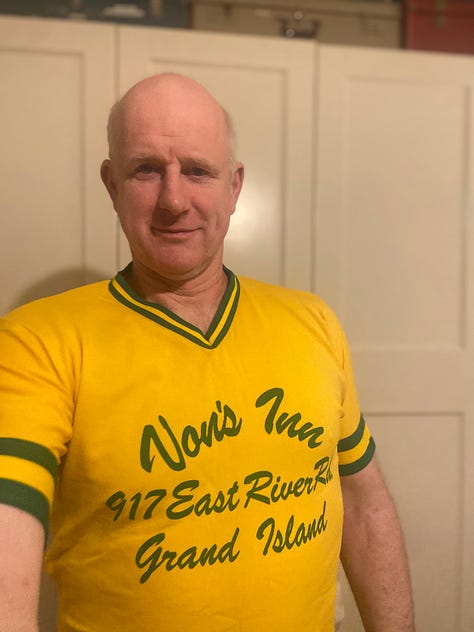 I make it a choice in three. The first isn't even a football shirt. When I arrived in Sydney in 2005 for the match against Uruguay, I'd left my Socceroos shirt in Melbourne. An entire afternoon was spent visiting every sports store in Sydney, trying to rustle up some green and gold. Eventually, I stumbled across a second hand store that was selling something thick and polyester that advertised Von's Inn, 917 East River Road, Grand Island. 'Hideously Yellow Von' is what I call the shirt, but because it was on my back when Aloisi scored that night, there's emotional and superstitious attachment.
The second is my Harry's Hand Tatt Appreciation Society T-shirt that I wore at the 2010 World Cup in South Africa to attempt to rally public support to Harry Kewell's hand tattoo.
The third is the shirt the Socceroos wore for their last victory at a World Cup finals match, versus Serbia twelve years ago. I was in Mbombela Stadium, Nelspruit, that night, and caught the wave of ecstasy from Brett Holman's wonderstrike.
In the end, I chose the Harry's Hand Tatt Appreciation Society. It's good advertising for the organisation. But I took the other shirts in my bike pannier bag in case I needed a costume change.
We watch the game at The Rose Hotel in Fitzroy. It's not a pure football pub, but screens were plentiful even if the volume remained disappointingly low. 'Could we turn that up?' I asked about a dozen times. 'Yes, okay' the harried bar staff replied, but then nobody ever did. Eventually I figured that they actually couldn't. The TVs were shouting as loudly as they could.
And soon enough, we were too. Mitch Duke, better than a journeyman, but never a star, Mitch Duke who works so hard and never gives anything less than his whole being, Mitch Duke who plays the same position as Oliver Girou and Enner Valencia and Robert Lewandowski but who doesn't cast the same light, it was Mitch Duke who possessed the ball, passed it on, sprinted with every ounce of energy, and then pulled off the glancing header that will mark his life from this moment forward.
The Rose went nuts.
Australia went nuts.
Then it was just a matter of hanging on. Big Harry sliding in to prevent one goal. The Tunisian captain somehow failing to hit the side of a house on the half. Maty Ryan flying high and holding on, Aziz working back time and again. The minutes inched past. Treacle time for so long. But then I glanced up and saw that we were beyond the ninety. Good god, we were going to get there.
And we did! I took the video. Filmed Danny and Elise and Leanne and Danny's mates and the Rose running wild. We're alive in Group C. All we've got to do is draw with Denmark.
On ability we shouldn't be able to. But Denmark has been flat in both games. Surely we're feeling good now! And Mitch Duke, from what I saw last night, has swapped bodies with Harry Kane for the duration of the World Cup
Go Mitch!
Go Socceroos!
This thing is on!
Thanks for reading Good one, Wilson!! Subscribe for free to receive new posts and support my work.