'Good one' sale of Christmas books
I've got books for all ages and forgive me this one post to give them a push.
I've had twenty books published over these last twenty years. The first was Grannysaurus Rex in 2004, and apart from digging up a copy (from illustrator David Cornish) for an 18 year old 'Samasuarus' whose mum threw away a sentimental copy in a move, I'm down to four copies myself — one for each of my kids.
But I do have copies of many of my books for sale. I'll divide them according to age groups. Available books are up at my author site, except for Laugh Your Head Off where you have to email me. If you're a paid subscriber to Speakola or Good one, Wilson you get 20% off with the offer code in your welcome email (or reply to this and I'll resend). As a signed up reader of the blog, you get 10% off until Christmas (use offer code UPR4TU2 at checkout). If you live locally to Northcoe and can pick up the books, use ZNNHUGE and you avoid postage.
Ages 0-5
These are back-stories to nursery rhymes, all illustrated by Laura Wood. Basically they ask the question, what happened before the main action of the rhyme? In the case of the Cow who tripped over the moon, did you realise she had seven unsuccessful attempts on the moon before she finally nailed it? It was dedicated to Jack, who does a fair bit of persevering himself.
As for Baa Baa Blue Sheep, the little boy who lived down the lane had to stage an intervention between the master and dame who wouldn't share bags of wool from all different colours of sheep, and kept getting into fights.
Cow sold 50,000+ copies and was National Simultaneous Storytime title 2017. Hickory was the title for 2018 and was read by 1.086 million people across Australia and New Zealand. I don't have stock of Humpty.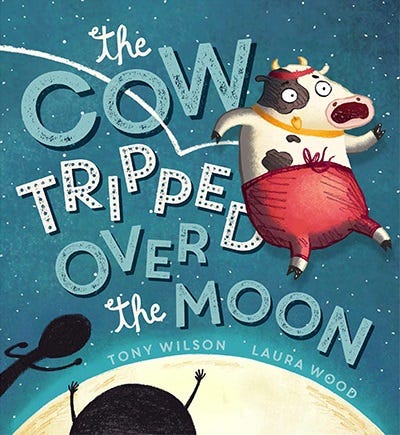 Ages 4-7
These are picture books for older kinder and younger primary school kids. I reprinted Harry Highpants myself because I kept getting inquiries about it. In its day, it was a White Raven selection at the Bologna book fair, which was a bit of an honour. Tom Jellett did the illos for that one and he's become a star of kids publishing. Perfect for teaching kids about respectful protest, or for giving shit to a workmate who wears high pants.
Princess has done better than any of my other books overseas (UK, USA, Canada) and is illustrated by Sue de Genarro. It made this list of anti-Princess books, and hooray , it's Patricia's favourite! It's about looking for true love and using peas to get you there. Minister has its fans, but my tip to budding authors is not to load up on parliamentary themes in a picture book, even if your minister is the freaking Minister for Traffic Lights! I did an earlier blog about Minister. It's also one of my least read blogs. Good one, Minister. My most popular book in this age group is The Thirsty Flowers, but I have to organise a self published reprint.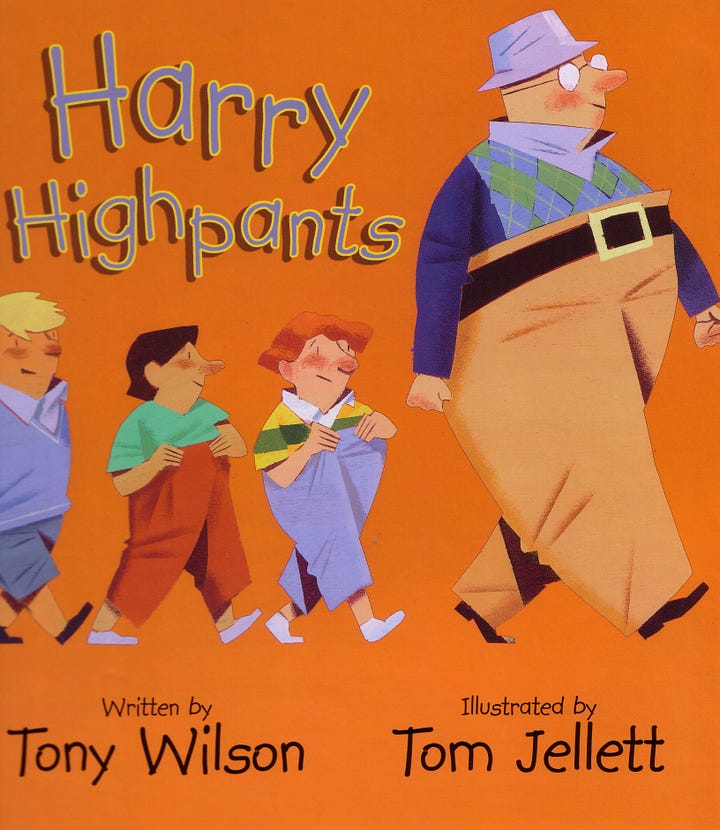 Ages 5-10
These are chapter books aimed at primary school kids. Up until grade 2, they'd probably need to be read out to the child. The audiobook of me reading The Selwood Boys is out through Bolinda and it's on Borrow Box. Joel Selwood had a fairytale end to his AFL career, and it's a great time for kids to enjoy these. They are not a biography of the young Selwoods. They read as 'fictionalised true stories' set in Bendigo at the time of Joel starting his junior footy life, in a sports obsessed household with three brothers (who will all play AFL footy). Pranks, crushes, cosuins, road trips, school. There's a truth or dare scene where Joel shears his name into a sheep (that one leans into 'fictionalised').
Stuff Happens: Jack is about a group of Grade 5 boys who concoct a lie to try to get themselves out of trouble. The problem is, one of their group is in much more trouble. A book about telling the truth.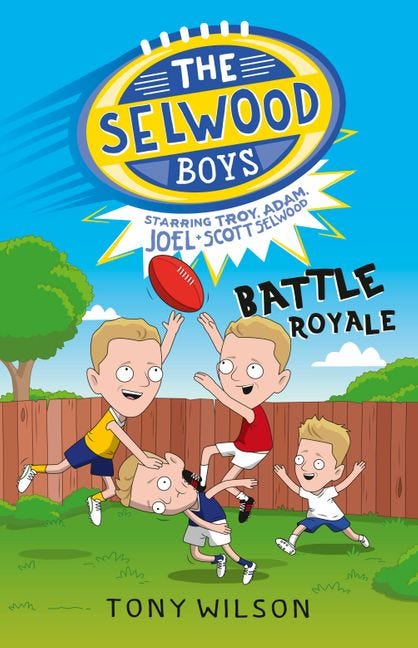 Ages 7-11
A Boy Called Bob is the kids book version created from the Bob Murphy penned adult autobiography, Leather Soul. This is the book I would have wanted when I was eight. It basically takes a successful footy life, and explains what each bit was like, from first memories to retirment. First junior game, rep teams, getting drafted, running through a banner, (missing) an AFL Grand Final, retirement. I borrowed from A.A Milne chapter title styles:
I love the start of this book:
I also have some books for this age group called 'Laugh Your Head Off Again' and 'Laugh Your Head Off Again and Again'. I'm one contributor amongst many (including Andy Griffiths) with a funny story. Mine's called 'Sir Bum' in one, and 'St Reginald's School for Children Who Only Eat Plain Pasta'. Reply to this email if you want one of those ($20).
Fiction for adults
I've written two satirical novels that have sporting protagonists. Players is set in the seedy, self promotional world of a commercial television footy show 'Leather and Lace'— the main protagonist is a fifty something playboy ex footballer, Tickets Thompson, who is loaded up on Botox and down on principles. Making News is set in London and it's about a tabloid set up of a Socceroos player and his self-help author wife.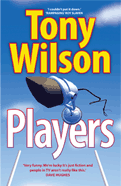 For teens and adults
I don't have many copies of Australia United, but it's basically a travelogue around the Germany 2006 World Cup, wriitng about the matches but mostly the fun of being a fan. There are ebooks on Amazon.
1989: The Great Grand Final is an exhauustive, 55,000 word account of one of the most famous footy games, but also the build up that brought Geelong and Hawthorn to the main stage. Blight's appointment, dealing with Ablett, the Jeans aneurysm, the Yeates plot to get Dermott — it's all there in a great bit of footy history, that I think appeals beyond just Hawks and Cats.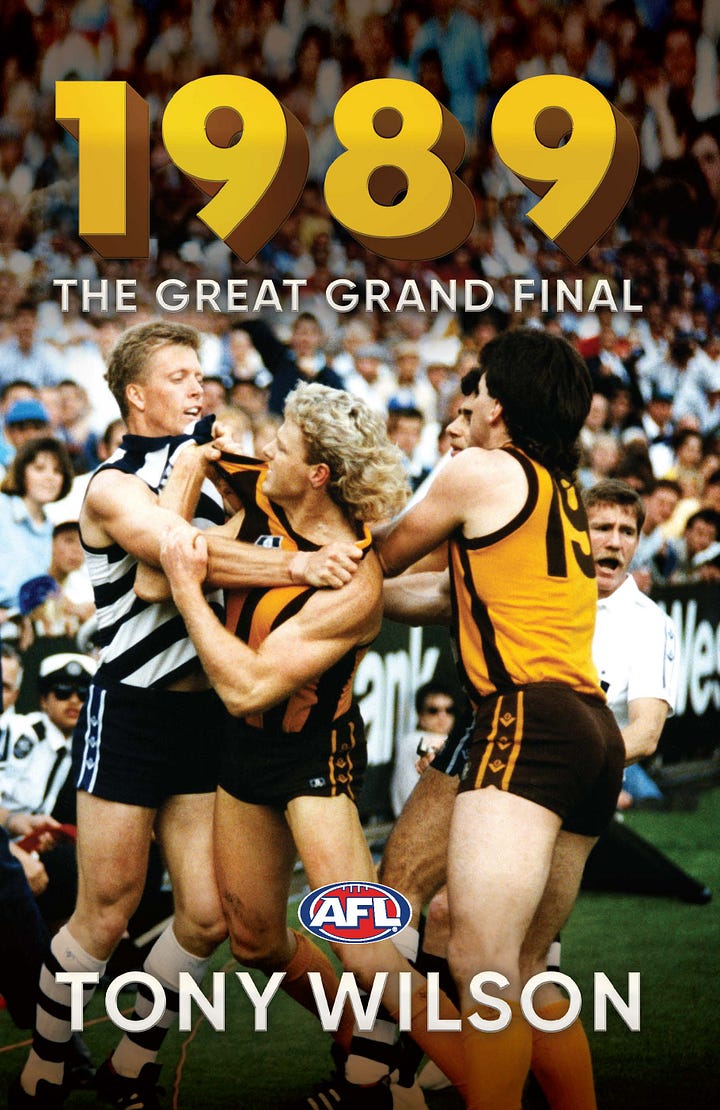 Thanks a lot for considering this bunch. I'll only do an email like this at Christmas, but you can buy books from me all year around. Use the author website.
Merry Christmas everyone!
Tony
Free subscriber offer code - 10% - UPR4TU2
Paid subscriber offer code - 20% - see email
Local pick up in Northcote - free postage - ZNNHUGE
Good one, Wilson! is a reader-supported publication. To receive new posts and support my work, consider becoming a free or paid subscriber.
I've quietly turned on 'paid subscriptions'. If you want to send a Christmas gift my way, it's only a few bucks per month and I'd appreciate the vote of support for my writing, and this format.