Holiday stake-out at the Garage café
Jack has loved Baker Boy since he saw him at Lost Lands in 2018. This week, while on holiday near Ocean Grove, we heard a rumour that Danzal Baker lived locally and bought coffee at Garage café.
A car door slams and Jack flinches. 'Is that him?' he whispers.
I glance over at the black Lexus and an elderly white man with silvery hair is helping his octogenarian wife out of the passenger seat.
'No that's not Baker Boy' I say to my eleven year old son, who has cerebral palsy and cortical vision impairment. He's not equipped visually for the task he's assigned to us, which is sitting at an outside table on the concrete expanse at Garage Café in Ocean Grove on the off-chance Australia's most celebrated rapper drops in for a coffee.
'But that's him over there!' Jack's sister Polly, 15, says, unhelpfully, for about the fifth time.
'Where?' Jack says.
'Over there!'
'Stop it Polly,' I say. ''You know Jack doesn't do sarcasm.'
She's a repeat offender on this front. Last weekend she combed Jack's hair in a Richmond bagel shop and whispered to him that Dua Lipa was in the queue behind him. When I'd convinced Jack to calm down, that Dua Lipa wasn't at Bissel B bagels on Bridge Road, Jack mussed his hair angrily and said, 'See, Polly, I put my hair back to how it was!'
Now she was at it again.
'Stop it, Polly!' Tam says, adding to my glares. Then she tries to settle Jack's expectations. 'Jack, we've gone through this many times. It's extremely unlikely Baker Boy will come here. He could be on holidays. He could be on tour. He could just be at home. It's 11.15. He could have already bought his coffee. And Char doesn't know for sure he comes here. She's just heard it from a friend.'
I order our coffees and croissants at the counter and mention that we have a Baker Boy fan in our midst, and we've heard he sometimes comes to this café.
The blonde woman serving us grins. 'Yeah he and his partner are here pretty often. They're lovely. Actually, they haven't been in today … who knows, you might get lucky!'
I report back to our posse consisting of Jack, his three siblings, two parents, aunty, two cousins and a granny. 'Char's mail is good,' I report. 'He does come here. And he hasn't been in today!'
Jack sits taller in his wheelchair, eyes down to avoid the bright sun, quietly absorbing the information.
He hasn't touched his hot chocolate.
***
Jack knows every Baker Boy song and all of the live shows on YouTube — Pinky Flats, Freedom Day Festival, AFL Grand Final, Woodford Folk Festival, Commonwealth Games. He's seen him live three times (see video above) — twice at the Lost Lands festival at Werribee Mansion (now the Wanderer Festival) and once at Hamer Hall. The latter was a school excursion, (Pretty amazing I thought!) and it led to some dinner table musings on great excursions of yore, including Deepdene Primary's 1982 trip to the CBD to see the architectural miracle that was the City Loop.
Jack's aide, Dallas, was in fine form at the gig. Knowing Jack's obsessions and his beleaguered parents' hunger for new Baker Boy material, he phone recorded the show, dotted with their little chats throughout, as Dallas successfully counseled Jack through the noise assault. Here is a sample. It's been on high rotation:
Then, afterwards, he spotted Baker Boy hotfooting towards Flinders Street, (who knows, chasing the thrills of the City Loop himself?) and Dallas summoned all the pace left in his sixty year old legs to chase down a photo.
So the seeds of our stake-out had been sewn. 2019 Young Australian of the Year Danzal Baker had himself a big little fan in Jack.
***
Jack heard the Baker Boy-living-in-Ocean Grove whispers from his Bellarine dwelling aunty and uncle, Charlotte and Hamish, as we sat on the grass next to the Barwon Heads fish 'n chips shop. Jack was listening to his Hamer Hall audio recording (again) when Char dropped a bombshell:
'He might even live near here, Jack. We saw him at Queenslcliff Music Festival and he said, 'it's nice to perform at my local festival'.
'Near here?' Jack said.
'I think he lives near us in Ocean Grove' Charlotte added, tantalisingly. 'My friend's seen him more than once at a café called Garage.'
'Can we go there?'
'Jack, he's very unlikely to be there,' I counselled. 'He'll only go to a café for a very short time each day. He'll mainly be at the house where he lives.'
'Do you know where he lives?' Jack asked his aunt and uncle, airily.
Just a casual fan chasing the home address of the musician he loves.
Luckily, they didn't.
***
Char calls at 9am to suggest a coffee at Garage. 'Not because I think we'll find him,' she says. 'Just because it is local and I've heard it's pretty good.'
We agree to the plan. Jack will be happy to just see the place where Baker Boy perhaps has coffee, and maybe I can leave a message with staff for him to please upload more full shows onto YouTube.
'Jack, what are you going to wear?' jokes Polly. 'How does it feel to be definitely going to meet Baker Boy?'
'Polly!' Tam and I shout together.
Then we have to dampen expectations yet again and explain to Jack what the real situation is. We're not going to meet Baker Boy. We're just going to drive across the Barwon Bridge to Ocean Grove to stake out the café that he might or might not go to.
That's all we're doing.
***
I'm watching Jack's Gran pick icing off carrot cake when Polly grabs my arm.
'Oh my god it's him, as in, it's really him, oh my god!'
Jack gasps and his whole body stiffens. 'Stop it,' he says, because he's sick of all the false alarms. The Girl Who Cried Baker Boy is still gripping my arm, and there's an intensity to it. I'm not sure she's this good an actor. I look up from the carrot cake. Char's eyes are wide and her mouth is gold fishing. I follow her gaze. There are two people walking towards the coffee window. One of them is a blonde woman in a yellow cap and red overalls, and the other …
Imma proud black Yolŋu boy, with the killer flow
Listen to the yiḏaki, listen to it blow 
It's freakin him! Unbelievable. 'It is him, Jack. It's actually Baker Boy! Tam, he's here! Over there at the coffee window. Unbelievable!'
'Are you sure,' Tam says, and I can hear in her voice she's measuring the embarrassment quotients involved in getting this identification wrong.
'It's him, Mum!' whispers Polly. 'Definitely!' And she's shed all the shit-stirring swagger and is now just a fifteen year old music fan staring directly at one of her favourites. 'I can't go over. It's too embarrassing.'
'Why don't all ten of us go over,' I joke. 'Hi Baker Boy, we're the Wilsons. We've been staking out this café waiting for you … '
'You take him,' says Tam. 'I'll be too embarrassed. You're better at this sort of thing.'
Jack's now trembling and overwhelmed by this sudden turn of events. 'It's not Baker Boy' he says, too loudly. 'It isn't him. We shouldn't go over. It isn't him! It isn't him!'
There are times for listening to your special needs child's special needs, and this isn't one of them.
'It is him, Jack. Buckle up. We're going in.'
Baker Boy and partner have finished ordering and are now waiting in the sun on a bench next to the coffee window. Now is the moment. I stand up and maneuver Jack around a planter box that has sprung up where the bowsers used to be. Fortunately Jack has stopped insisting that Baker Boy isn't Baker Boy. We're both a bit nervous. The rapper sees us wheeling over and offers a big smile — not even a scintilla of 'dear god, here comes another one, why can't I just order a coffee'.
I'm apologising from distance. 'I'm really sorry, Baker Boy, we're big fans. Sorry to barge in … should I … call you Baker Boy?
'I'm Danzal' he says, 'but lots of people call me Baker Boy.' He introduces his partner.
I introduce Jack. 'Jack listens to your music every day' I explain. 'He's seen you live three times.'
Jack leans forward and offers his arms wide for a hug. 'Hello Mr Meditjin' he says as Baker Boy receives him.
I'm too slow with the photo. It's a beautiful moment.
I tell Baker Boy how much Jack listens to his songs and the three gigs he's seen live.
'Will you put your Queenscliff Music Festival gig on YouTube?' Jack asks, getting down to brass tacks.
'I loved that show,' Danzal says. 'I hope somebody filmed it.'
'Will you put First and Forever festival on YouTube?
I explain to Baker Boy that Jack is a big YouTube live concerts fan, and explain to Jack that Baker Boy probably isn't in charge of uploads himself.
'I should do a YouTube concert series though' Baker Boys says. 'That's a great idea!'
'It is,' Jack says, truly believing it.
We ask what the next gigs are and Baker Boy says he's playing in Darwin in May.
'It'll be a fun one,' he smiles. 'I love playing to a whole lot of my family and friends.' Then he agrees to some photos and wraps things up with a high five.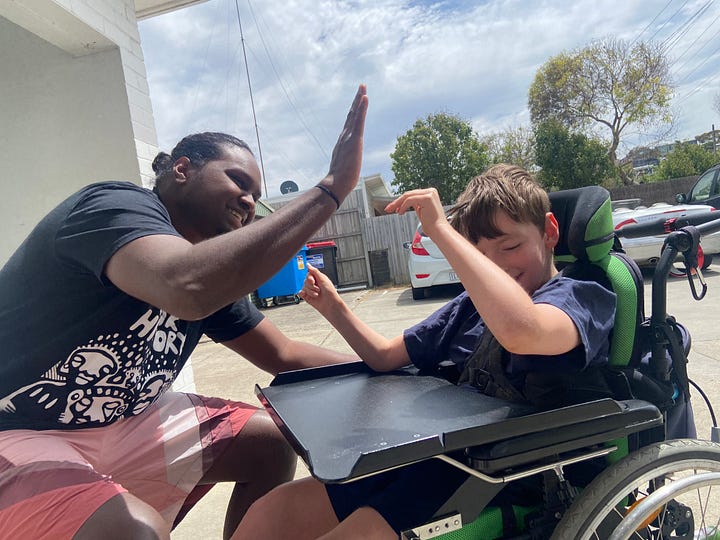 Danzal Baker and partner collect coffees and return to their car. When they're gone, Team Stake-out collapses into widespread celebration. What are the chances? We've been there for forty five minutes.
'What'd I tell ya?!' the blonde barista says, collecting our cups. 'Perfect timing!'
We complete a wind-down stroll around the river, and then pile back into the van. We listen to 'Cloud 9' and turn it up loud, because that's pretty much where we are. At some point, I know Jack's going to speak, and I know exactly what he's going to ask.
'Maybe we can have coffee here again tomorrow?' he says, right on cue.
Good one, Wilson! is a reader-supported publication. To receive new posts and support my work, consider becoming a free or paid subscriber.
Big thanks to recent paid subscribers ⭐ Meg McKinlay (Founding Member)⭐James Marsh ⭐Ed Heerey (Founding Member).
Massive thanks to Baker Boy. What a legend.
I'm a professional writer. These pieces take time. When you become paid you keep me employed.