The silence of the stands — John Aloisi, that penalty, and the laws of physics
In April I interviewed the great John Aloisi for a commissioned story on responsible gambling. Maybe, just maybe, I drifted off topic to talk about that night, and that penalty.
It's November 16th and the World Cup is five days away and that's as good excuse as any — not that one is ever needed:
I'm out in Tullamarine, tucked away behind the cafeteria at the training facility Western United are temporarily sharing with AFL club Essendon. I've been allocated a strict thirty minutes to interview John Aloisi, the man who I believe provided Australia with its greatest sporting moment. It's for this article in 'Inside Gambling' on 'Love the Game, not the Odds', after Western United signed up as an elite sporting club partner. I'm meant to be talking to the Socceroos great about the prevalence of gambling, the seeds sewn then and the saturation of now.
But I can't resist. I'm going to ask about that kick.
And I do, and here is the full, glorious audio
TW: I mean, you've told it a million times, but can you just walk us through what went on in your head on 16th of November, 2005? What were the feelings? What were the things that you saw? What did people say to you?

John Aloisi: Yeah well, I can't recall too many people saying too much, because as soon as you get to the penalty shootout, you're focused. You come into the group because Graham Arnold and Guus Hiddink called everyone in. 'Who wants to take a penalty?' they asked. It was Graham Arnold who asked. But they sort of knew who would want to take a penalty. And I put up my hand. I said, 'Yeah, I'll take one'. And Arnie said, 'You go first'. And I said, 'No, no, put me number five'. I just had this feeling that number five could be decisive. And I had a feeling for a long period before that, you know, that I was gonna score an important goal or the winning goal to take Australia to a World Cup, because I'd been through the two previous World Cup campaigns, not playing much, and not really having an impact on it.
It's the six minute mark of my interview about gambling in sport, and I can feel the very inappropriate sensation of looming tears. The woman in charge of marketing at Western United is looking at me curiously. I admonish myself silently. Must not cry because Alosi talks about penalty. He continues:
So for the two years leading into the qualifier, I actually, started to really believe and think, and, you know, sort of manifest that I was gonna be the one that will help Australia qualify. I had practised penalties the day before, all down that end. I practised five penalties. I stayed behind with Lucas Neil and Ante Covic the goalkeeper who was on the bench that night. And I hit 'em all perfect, the same side. And so when I was lining up at the halfway line, I didn't even realise who else was taking a penalty because, you know, as soon as Arnie told me that I would be number five, I walked off, went to halfway line and just started thinking about the penalties. And so the one moment I do remember is asking Lucas Neil if he was taking one, because I didn't know who else was taking one.
I want him to slow down, to dwell on every blade of grass. I was in the very back row of Stadium Australia that night, taking the widest possible angle on a nation holding its breath, and then losing its mind. It's incredible to hear the opposite perspective now, to be inside the mind of the man in the arena.
I was feeling confident most of the penalty shootout, until Viduka missed his, and then I go, 'whooah, this could get a little bit messy!' And then Schwartzy saved the next one.
The commentary is so famous. There's Craig Foster and Simon Hill fumbling with the maths, 'If John Aloisi scores this goal, Australia will be there'. It's painstakingly slow, and Hill told me in his magnificent Speakola episode (around 29min mark) that he was frantically seeking confirmation from his producer, and it only arrived in the nick of time. If you do listen to this episode, skip to the end to hear the 3AW version of the call too, with Frank Farina going off tap.
But Aloisi himself remained calm:
John Aloisi: I was so confident that we were going to the world cup. And, and that's all I was trying to do was from the halfway line to the penalty spot, I was just saying, 'do exactly what you did the day before in training, and we're going to the World Cup — you're taking us straight to the World Cup.' So there's eighty plus thousand people there, but I could only hear murmurs in the crowd, that, you know, 'Is this it? Are we going to the World cup?' Sort of like a Craig Foster, not knowing whether it was the penalty to win the game.

But I knew it was.

I knew that was the penalty to win the game.

And I knew that if I hit it exactly, the same as I did, that we were going to the World Cup.
Hang in there marketing woman! I will soon do the job I'm supposed to be doing, I promise! But for now, more detail. More detail!
TW: What did it feel like on your boot?

John Aloisi: Ah yeah, it felt sweet! You just know when you've hit a ball, that you've hit it in the right place. My head was down; so I had the run up marked out in line with the post, 18 yard box. I don't look at the goalkeeper once, look at the referee, wait for his whistle. And then my head's just focused on the ball. So as I strike the ball, my head's down enough over the ball that I know I haven't lifted it too much, that it could go over the bar and I've got underneath it enough to put it at a really good height. And the way that I struck it, I knew it was going pretty much in the corner. So as soon as I struck the ball, I was confident, but you're never a hundred percent sure until it hits the back of the net.
Okay, so this next part is my favourite bit, and I hadn't heard him say it before. It's what I call 'penalty porn'. You're welcome, fellow Uruguay game buffs:
And as it's going in, I'm feeling this is in and my head lifts to see it. And I'm thinking, that's in, but I haven't heard not one bit of noise yet from the crowd! And so I'm running off knowing in my own mind that I've scored, but there is no crowd noise. So there's a photo of me running off, sort of with a serious face thinking, shit, I hope this has gone in, but then the net moves and then the crowd a half a second later go, you know, go off! And, and that's when I knew that that's it. So I ran around like a maniac.
Unbelievable. The greatest moment in Australian football history and he experienced microseconds of doubt in a strange vacuum of silence. Of course he did! The laws of physics! But then arrived that famous avalanche of noise, of which I contributed my tiny few decibels, travelling at the speed of sound, to give Aloisi confirmation and permission to lose his mind and his shirt.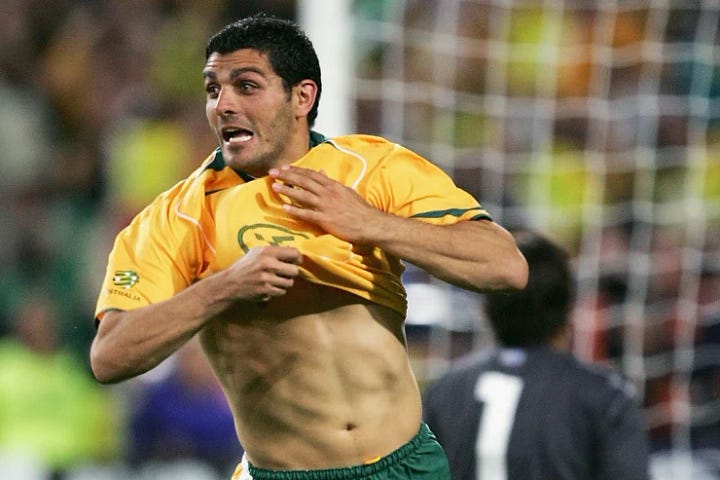 At the 2010 World Cup in South Africa, Cam Fink and I made little sketches for the SBS sports comedy show Santo, Sam and Ed's Cup Fever. We'd try to think of something funny or interesting each day, tying it in to whichever nation's supporters were in town. When the Uruguayans arrived in Cape Town, we wondered if they still remembered John Aloisi?
In Tullamarine, I finish the interview and Aloisi signs four copies of 'Australia United' for me, a fan memoir I wrote about the 2006 World Cup in Germany. I wonder whether maybe he'll shower me with compliments and tell me it's his favourite account of his favourite time in football — but no, he seems to be clocking the cover for the first time.
'You were there, were you?' he asks me.
'I was,' I reply.
'It was a great time,' he says.
'It sure was,' I reply. 'One of the best times of my life.'
And then the marketing woman whisks him away, before we could become best friends.
Thanks for reading Good one, Wilson! Subscribe for the free regular World Cup content this month
Australia United, ebook and hard copies. (not selling the Aloisi signed ones)