Treely, madly, streetly — Oxford Street Tree Art
Our street in Northcote has had a street tree art exhibition these last two years. It's been great fun, and a community builder.
For the last two years, our street has had a tree art exhibition. It's the brainchild of Matt Clare of Mono Design, who thought it might be a fun lockdown diversion to set his neighbours s a creative challenge, and turn it into something of a community event.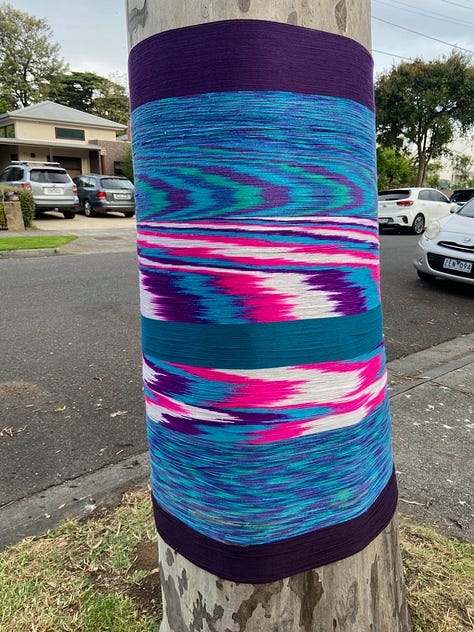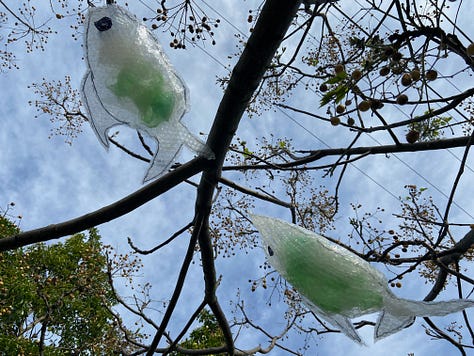 My wife Tamsin has two fine art degrees and has been a finalist in a national portrait prize. One day I'll tell you the story of how she designed a 'sauce stencil' for me to use on a pie at the 2013 Grand Final in order to win a barbecue. She's good at this stuff. When it comes to visual art, I defer to her. Throw in the fact that I've always been told I'm not good at drawing or painting or making things. Of course art is always a matter of taste, and it's possible I'm being unduly harsh on myself, so you can decide for yourself.
Here's the drawing I did of Australia II winning the America's Cup in September 1983. I was eleven.
I call it, 'Any boss, Bum!'
I know, right? The deft pencil strokes, the interesting use of colour. You can see why I've kept it.
For this year's show, we assumed responsibility for two trees. When I say we, I mean she. Tamsin left it to the last minute, but on the morning of opening night she hotfooted to Spotlight and the $2 shop to gather supplies. Six hours later, while most of us were sipping champagne, Tam was still up a ladder, but her eventual creations were beautiful. One is a Flower Tree dotted with fairy lights: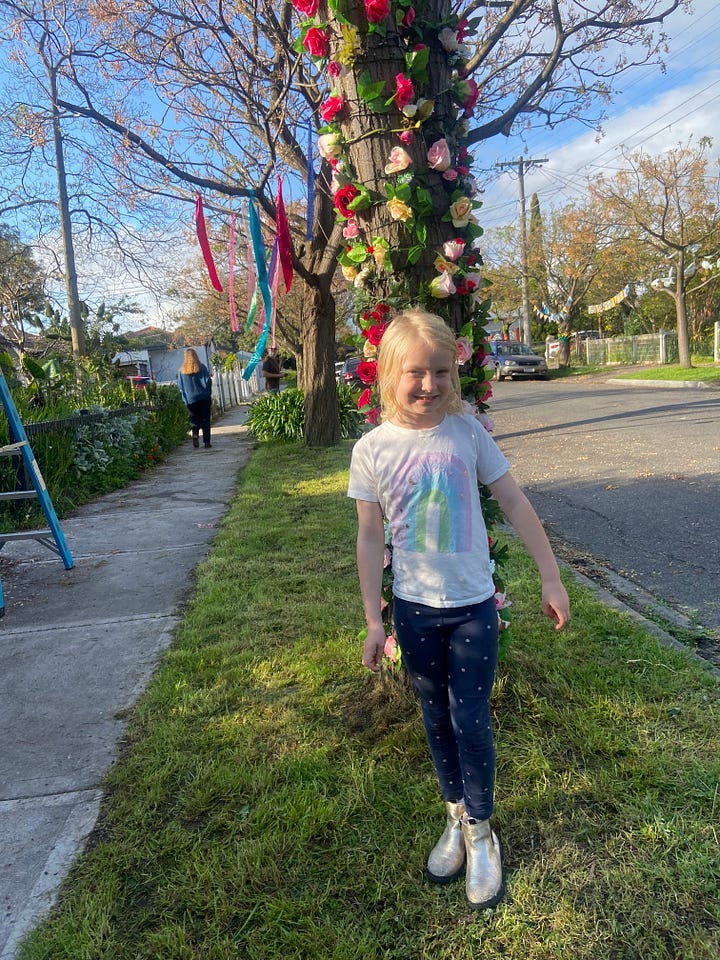 The other is a Northcote Wishing Tree, inspired by the wishing trees of Cappadocia, Turkey. In Northcote, there's no sin greater than cultural appropriation — I'll never forget the time I turned up to my then three-year-old's pre-school, and they were singing 'Dry Bones (Dem Bones)' in Woi wurrung, and the teacher announced to the three-year-olds present that she'd sought permission from local elders. I thought, culturally speaking, she was playing that pretty safe. I'm trying to imagine the inquiry hitting the desks of the local Wurundjeri heritage centre: 'Hey Colin, a kinder teacher is asking if she can do singing-circle in language with some three year olds for a song that I think is African-American? How shall I write back?'
Anyway, here are some Turkish wishing trees:
And here's what Tamsin rustled up via the combined wares of Spotlight and Hot Potatoes Super $2 Shop, Collingwood.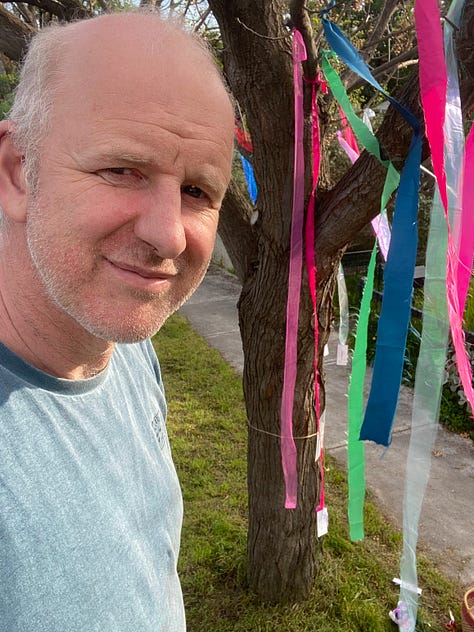 As you can see, a Northcote wishing tree requires the wisher to tie his or her wish on to the fabric, with 'wish cards' offered in a handy weather proof plastic folder. Whereas with Turkish wishing trees you write your wish directly onto the fabric and attach that. So not cultural appropriation at all then. Phew, that was a close one.
Some wishes that have made their way onto the tree:
I wish I had a pug

I wish Sarah's dad had a new car

I wish I could remember my Gran's chocolate cake recipe

I wish I had a baby sister

I wish I could kiss you again and again

I wish I could fly and have laser powers

I wish I had a sweet

I wish I lived in a treehouse

I wish I was a ballet starr (sic)

I wish my street was as creative as this

I wish I could start today again.
Okay I admit the last one was me. My inner Paul Kelly fan could not be suppressed.
Our wishing tree is still up, and from all reports, Sarah's dad has a new car so it appears to work!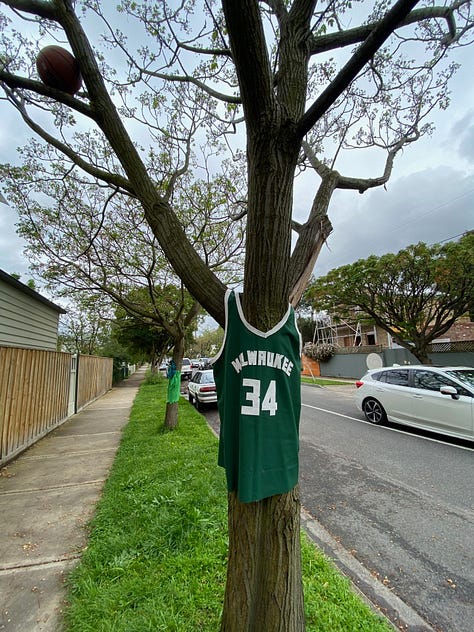 Last year, I was more than just my wife's ladder holder in the Oxford Street tree art. I provided a work myself. I call it 'Supermarket Treelley'.
It is my greatest artwork since 'Any Boss, Bum'. When I say 'my artwork' I should perhaps note that Tamsin came up with the idea and our neighbour Martin convinced the tree to grow through the centre of the trolley.
But I obtained the trolley (legally of course!), I believed it could be done (Tam thought it was too hard) and I had the unabashed temerity to impose upon Martin and his angle grinder.
Still, every project needs a captain and, thirteen months later I'm still bursting with pride. My favourite bit was explaining the magic to bewildered passers-by. 'The trick is to position the tree when it's very young … '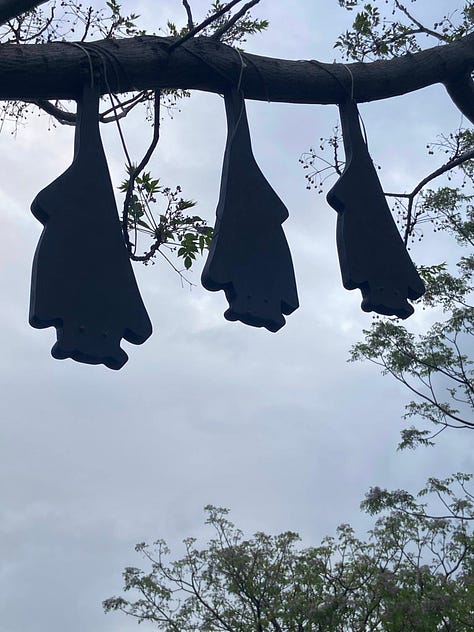 'Supermarket Treelley' is gone, but the 2022 edition of Oxford Street Tree Art is going strong. Check it out on Instagram. Come along and have a look. I'll probably be out the front working on my 2023 installation. At the moment it's still very much a work in progress, but it is taking shape …
Thanks for reading Good one, Wilson!! Subscribe for free to receive new posts and support my work.
My other newsletter is Speakola. You can pay for that one if you like.